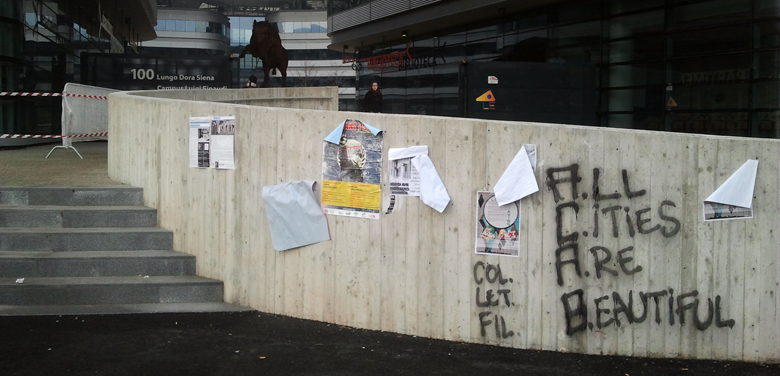 Smart City or The serial reproduction of an urban vision
A couple of months ago I bought a brand new video game console, Sony's well known PS4. Despite being almost 40, I enjoy video games very much, and I also think that they are relevant cultural products to be carefully considered in the social sciences (I often use such an argument in order to justify my playing). Included in the console package, there was one video game called Watch Dogs, which monopolized my late summer nights.
The game style reminds me very much of the famous Grand Theft Auto series, but with some innovations. The game is set in a fictional version of Chicago, where urban infrastructures and urban services are managed by the central operating system called ctOS. The protagonist can use his smartphone in order to hack into various electronic devices tied to the ctOS, so that he can control urban infrastructures for his benefit; for example, by stopping trains, raising security barriers and blacking out public lights. Hacking cameras, mobile phones, garage doors, ATMs, fuse boxes and electronic devices is, in general, fundamental in the experience of the game. It also provides the possibility to profile ordinary people walking in the street, detecting for example their incomes, the keywords they google or to intercept their conversations. Welcome to the first video game explicitly set in a smart city!
Watch Dogs actually provides a clear picture of the smart city imagery. Of course, Watch Dogs is totally fictional and it is arguably far from realistic. However, the main ideas at the basis of the game such as; the interconnection of urban infrastructures, the systematic collection of big data and the possibility to access sensible personal information, are heavily grounded in collective ideas about the kind of urban life we will experience in the future. It is not a coincidence that, according to Ubisoft (the company that produced the game), everything is based on potentially 'real' hacking technologies and that the game was developed with the assistance of various hi-tech experts.1 [1] See Hugh Langley, Watch Dogs: a hacking utopia that's more real than you think , Tech Radar [accessed 16 September 2014] But what exactly is a smart city? Let us look at a different situation.
Milan will host the hallmark event Expo 2015 next year. I suggest watching the promotional video that is circulating on the web.2 [2] https://www.youtube.com/watch?v=XWqePGsxDFQ A longer version is also available: https://www.youtube.com/watch?v=_5elq77BhUE [accessed 16 September 2014] According to the video, the visitors' experience is fully managed and enhanced due to new informational technologies, including the use of visitors' smartphones. A number of digital screens introduce the visitors to virtual or augmented realities: the physical experience of the Expo seems to be marginal, as the exhibition rooms are basically empty, the walls are represented as plain grids and there is almost nothing resembling a face to face interaction. Is it wonderful? Scary? Or interesting?
It is not easy to say what a smart city is. In its current form, the concept comes from the world of private enterprise and not from academic research in the field of urban studies. The concept of a smart city has been mostly developed in the last decade by a number of major hi-tech firms, such as IBM, Cisco, Siemens, Schneider Electric, Hitachi, Accenture, Toshiba, General Electric, Microsoft, Oracle, Capgemini and SAP.3 [3] See for example IBM's interactive documentary 'Welcome to the Smarter City' and Oracle's Solutions for Smart Cities [accessed 3 October 2014]
A smart city is basically a highly efficient city in which urban infrastructures and everyday life are optimized and 'greened' through technologies provided by IT companies. IBM, particularly, is a major player in the development of smart city projects, including data collection systems and public administration management: the company has started partnerships with cities like New York, Chicago and Madrid in order to work in the fields of urban safety management, healthcare and energy distribution. And it is meaningful that the actual trademark 'smarter cities' was officially registered by IBM in 2011.
One of the most popular urban imageries about smart technologies refers to a city that receives feedback from its citizens' smartphones and gathers data from sensors spread throughout the city; the smart city performs 'big data' analytics in web-connected data centres. In this way, the smart city can autonomously adjust and deliver better services in real time, for example, by changing the colours of the traffic lights according to changing traffic conditions. This urban imagery is quite appealing and it resonates with the diffused hope that the future technological advancements will solve most of our current problems – especially the environmental ones, but also the problems concerning safety, economic growth, etc. As I will argue, these technologies implicitly promise to solve problems without questioning consumerism (made up of things like my new PS4) and unsustainable lifestyles in general.  The idea that smart urban technologies will be a panacea for many actual problems is so appealing that the term 'smart city' has been introduced among the keywords of the European Union's political documents and research funding schemes,4 [4] See the EU Digital Agenda for Europe concerning Smart Cities [accessed 3 October 2014] adding vast popularity to the smart city concept and pushing the academic sector towards its investigation and development. It is also for this reason that urban scholars like me have begun the debate about smart cities.5 [5] Academic articles in urban studies include: R. Hollands (2008), "Will the real smart city please stand up? Intelligent, progressive or entrepreneurial?" City, v. 12, n. 3, pp. 303-20 (by far the first article on this topic in urban studies); A. Vanolo (2014), "Smartmentality: the smart city as disciplinary strategy", Urban Studies, v. 51, n. 5, pp. 881-96; O. Söderström, T. Paasche and F. Klauser (2014) "Smart cities as corporate storytelling", City, v. 18, n. 3, pp. 307-20.
But are there actually existing examples of smart cities in the world? Sure, there are many! Amsterdam, Copenhagen and Luxembourg are usually considered among the 'smarter' European cities.6 [6] Unni Holtedahl, Light on Smart Cities, CLEW [accessed 1 October 2014] Rio de Janeiro has been awarded a prize at the 2013 Smart City Expo World Congress in Barcelona. It received this title for the implementation of a number of new technologies that will improve the life of its citizens, from its new Operations Centre developed in partnership with IBM, allowing permanent monitoring of what is happening in the city, to a new integrated transport system that is supposed to improve the mobility in its slums.7 [7] SCEWC, Smart City Expo World Congress chooses Rio de Janeiro as the best smart city of 2013 [1 October 2014] In Asia, Songdo in Korea and Masdar City in the United Arab Emirates are two examples of futuristic hyper-efficient settlements built from scratch by private companies.8 [8] Songdo and Masdar [accessed 4 October 2014] But what do these different examples of cities have in common? Actually, very little. The lifestyle, urban problems and the built environment in Amsterdam are evidently pretty different from those of Rio de Janeiro; not to mention the experiments of 'rationally' planned cities of Songdo and Masdar City, which look very much like business districts, rather than lively urban spaces. What these cities have in common today is a shared path of development based on the technological utopia that smart technologies will 'save' us from environmental disasters and will provide enhancements in the lives of the inhabitants. I have several points of scepticism concerning this idea. I would like to present some potential problems: Here I will focus on general politico-ideological problems and I will not discuss this in technical terms of sustainability or the serious psycho-social consequences of living in supposedly smart cities (do we really desire to live in a city where everything is perfect and planned? Isn't that boring? Will I feel constantly 'monitored'?).9 [9] On this topic, see this interesting comment by Richard Sennett: No one likes a city that's too smart, The Guardian [accessed 1 June 2014]
Firstly, I have always been perplexed by high-tech eco-villages and similar experiments; with beautiful semi-detached houses, a lot of small private gardens, solar panels running heating systems and electric cars. Is it really possible for more than 7 billion people from all over the world to live in places like that? I do not think so, but there is more.
The city is, by definition, a place of concentration, variety and complexity. Life in a big city, in fact, is certainly more stimulating and complicated (and probably more stressful) than life in a small village or rural setting. Certainly, new technologies and big data analysis may help to cope with the complexity of current urban problems, but it is important not to underestimate urban complexity. The idea that one can fully understand and manage urban flows, urban problems and social phenomena by collecting a bunch of data through smartphones and sensors is just another version of the old modernist ideology. Just like when, a few decades ago, men used to alter river paths with dams (particularly in the global South) in order to enhance the efficiency of water management, often producing huge environmental and social problems.10 [10] See for example Kathleen D Morrison 's article Dharmic projects, imperial reservoirs, and new temples of India: An historical perspective on dams in India, Conversation and Society, 2010 [accessed 1 October 2014] Smart city discourse is generally embedded in a philosophical framework which reduces complex social problems to simple issues for quick and easy solutions, often embodied in the ideal-type technology of the 'app'. But the management of a city cannot be reduced to pure rationality, because there is always a margin of uncertainty and, as a consequence, management is always social and political and based on human decisions.
One problem with the smart city discourse is that it is connected to the diffused vision of smart technologies as 'super-social' elements, that is, elements coming 'from above' that will save us. Most of us do not have a major knowledge of these technologies. For example, we trust IBM algorithms for water management systems, without having a real understanding of them. We hope that in the future this will allow us to continue filling up our 150 litre bathing-tubs every evening, possibly without feeling guilty about the global problem of water scarcity. But this is too simple.
Surely smart technologies may be great tools for dealing with many urban questions, but I think we really need a more radical imagination for dealing with global urban problems. How about radically different lifestyles? Totally different economic systems?
For example, completely different urban environments taking inspiration from the creativity of people living in the slums of the Global South, where people manage to cope with poverty and to live with incredibly limited resources?11 [11] See C. McFarlane (2011), Learning the City: Knowledge and Translocal Assemblage, Wiley-Blackwell, Oxford. See also D. Wilson and R. Keil (2008), "The real creative class", Social & Cultural Geography, v. 9, n. 8, pp. 841-7. Maybe there is much more creativity in those people, rather than in the many geeks developing smart apps.
A further critical point that has to be mentioned is that smart city projects enhance the ongoing tendency to move urban management into the hands of private companies. The production of smart cities is simply, in the eyes of private enterprises, an extremely profitable business. Of course private enterprises naturally pursue profits and the provision of urban infrastructures by private companies may further promote urban divides, enhancing the trend to promote well-endowed technological enclaves functionally separated from non-profitable spaces. This phenomenon, known in urban studies as 'splintering urbanism' is connected to the fact that public services are, generally, non profitable.12 [12] S. Graham and S. Marvin (2001) Splintering Urbanism. Networked Infrastructures, Technological Mobilities and the Urban Condition, Routledge, London.
Of course, all these are potential problems. There may be 'good' and 'bad' smart technologies and smart cities, and surely every technology – old and new – may greatly improve our lives and the protection of the environment. It is interesting to notice that, until a few years ago, most visions of the future city used to be dystopian (think about most cities in science-fiction, usually dark multi-level cities in Blade Runner's style, or about post-apocalyptic cities as in the famous film Akira). Currently, there seems to be an on-going attempt to celebrate the social and environmental opportunities offered by technology. Certainly, the popularly discussed idea that 'technologies will save us' protects activities related to technology from criticism, but are we sure that developing electric cars is a better option than enhancing public transportation? Are we sure that it is environmentally friendly to throw away an old and energy-intensive washing machine and to buy a new one that is more technologically advanced and smart? Maybe the environmental impact is lower if we just continue to use the old equipment for as long as possible. There is probably not a single answer and it depends on many circumstances. Surely, this over-celebration of technologies boosts the idea that these improvements will automatically guarantee better cities, regardless of aspects such as: the different development trajectories of local societies, the nature of technological developments, the difficulty of reducing the chaos and complexity of ecosystems to a handful of statistics and indicators which have to be fully monitored and controlled and the need for debates, rules and forms of control in order to shape social and technological change. We also need debates and rules about how to control the behaviour of private enterprisers working for the city. We need debates about which alternative technological solutions are possible. And we need to acknowledge that every city is different from another.
My final argument concerning the smart city, put briefly: there is not a single, possible 'smart city'. The expression 'smart city' seems to be partly self-justifying since a city that is not smart would be 'silly'. But there are a number of ways to be smart and technologically advanced. We may have low scale eco-villages and huge, highly efficient skyscrapers hosting hundreds or even thousands of people. We can have technologies expanding our freedom and technologies enhancing surveillance and control. We can also have a huge variety of cities, technologies and urban problems. Of course, enterprises selling technological solutions and smart apps get most of the profit by selling the same technological products and services to a number of different cities: in economics this is called the exploitation of economies of scale. Conversely, in times of economic crisis many city governments are happy to open the doors to public and private investments in smart city projects, or in other words to leave the costly management of public services in the hands of private companies. Multinational enterprises are therefore heavily promoting and branding smart technologies, therefore becoming key players in the production of urban space on a global scale. But isn't it highly dangerous to push urban development paths all over the world in the same direction, proposing a sort of 'template smart city' to be implemented and developed everywhere? The standardization of urban development paths and urban lifestyles strongly limits the possibility to think and to develop alternatives. It amplifies the risks connected to the choice of a single, specific technological paradigm. It negates and ignores geography, intended as the presence of difference and heterogeneity in space. Finally, it suggest that solutions are always technical, not social and political. It is for these reasons that I think we need a more critical discourse on smart cities and a debate about the kind of smart city we would really like to inhabit.