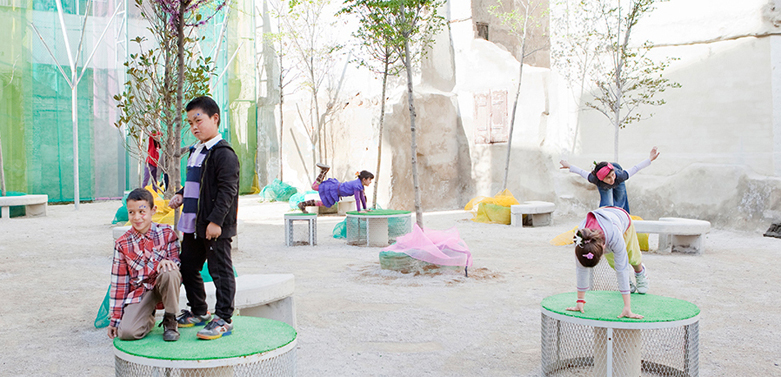 This is not an Urban Plot
introduction
Recent conditions of the construction crisis and widespread recession have led us to believe that we live in an era of not only strict economic restrictions and austerity but also unavoidably, in an age of an irrefutable decreasing of resources. As Jeremy Till states in his essay 'Scarcity contra Austerity', the strictness of this reduction and lack of growth is steadily and repeatedly presented to us, with such certainty, as the major constraint of the well being of our living environment, both on a personal and a public level.
Inevitably, architecture, as a discipline that spans across the public-private field, is in the line with this regime. 1 [1] Till Jeremy, 2012. Scarcity contra Austerity. Places Journal [Online]. [Accessed: 10 July 2014].
In the past decades the 'golden age of globalization' has been characterized by a large majority of the discipline that were feeding on real estate speculation plots on the construction of 'contemporary buildings', while affecting every single phase of the process – from design to construction to rent and/or sale. In other words, the role of the architect as a planner and environmental designer was traditionally reduced by our economic system to provide culturally acceptable realizations of projects whose form and use was predetermined by real-estate speculation2 [2] Goodman Robert, 1972. After the Planners, Simon and Schuster, New York., leaving us either with 'extravagant designs' that would never be built, economic and environmental waste and an unhealthy antagonism between cities that created an absurd uniformity in our urban landscape.3 [3] International Network for Traditional Building, Architecture and Urbanism (INTBAU), 2012. Architecture in the age of Austerity Conference Report [Online]. [Accessed: 16 July 2014].,
Apparently, these conditions of financial hardship still persist and architecture seems helpless and without a purpose in the aftermath of economic and industrial currents. It rather appears as a victim and a kind of after effect to the remains of the governing economic forces. On the other hand, austerity, as a political response to the economical recession imposed upon us, comes face to face and it is intertwined with the real conditions of scarcity – an actualization of lack.4 [4] Till Jeremy, 2012. From Objects of Austerity to processes of Scarcity. Jeremy Till articles [Online]. [Accessed: 10 July 2014]. It is then, undeniable that we are confronted with a certain limitation towards the growth and prosperity defined by the capitalist system. Consequently, as of the economic factor, perhaps scarcity is a more complex issue from the point of view that; material and immaterial resources, relations between human needs, local circumstances, technical possibilities and political decisions, are truly running out and put to question.5 [5] Ibid.
Hence, how can today's contemporary designers come to grips with the current challenges? Where could this 'new atmosphere' of restrictions lead us to and what do we need to reassess as architects? Alas, as architects we are left to do the same things but with much less; often at times exploited in the current market conditions, whether that is money, professional relationships and basic human needs. However, what if this reality, the reality of scarceness, inspired us to widen the spectrum of our practice and allowed ourselves to operate more creatively, not only in-terms of the actual end product, but in-terms of strategies and processes presiding and following an object.6 [6] Ibid.
What if these conditions could lead us to a subsequent shift to traditional design and identity of place? How could this happen? How could architects creatively challenge, reinterpret meanings and redefine the current system, the planning mechanisms, cost quantities, material resources used in the production of space and waste accumulation? Perhaps, in order to do so, we ought to re-evaluate the entire way we practise architecture and even go as far as to question our commissions whether their task makes sense and it is necessary and not build something because someone asked us to do so, otherwise we turn into pure service men.7 [7] Dubravka Sekulic, 2012. [Re] appropriating the Architect. Conference presentation [Online]. [Accessed: 25 September 2014].
Unsurprisingly and rather quite optimistically, recent reactions to work of several practices already point in these directions – to embrace reality to the point where scarcity becomes eminently realized and celebrated.8 [8] Till Jeremy op. cit.
Among the various attempts of re-engaging the role of architecture, one project is of great importance and admiration, since it apparently managed to institutionalise incidental experiments of public participation and accordingly, attempted to open the closed professional debate of architectural quality and legitimacy, to that of a maximum public involvement and participation.9 [9] Dubravka Sekulic op.cit. The project goes under the name 'Esto no es un solar' / 'This is not an Urban Plot' and was driven by architects Patrizia di Monte and Ignacio Gravalos Lacambra 10 [10] Patricia Di Monte (2014), Personal communication, Skype interview 7 July 2014. in Zaragosa, Spain. Obviously, the designers faced scarcities of various types including; materials, money, management and planning regulations, but understood these as opportunities rather than obstacles.
The idea emerged from the observation of different vacant plots in the historic centre of Zaragoza and aimed for strategic interventions that could become a source of a new vitality. Eventually, taking advantage of a Government Employment Plan in 2009, it was decided that they would identify and link all the abandoned sites located in the centre of the Old Town into a social network, while providing employment to 40 people in the city with restoration work. The project resulted in the revitalization of 28 urban voids, 14 plots in the Old Town in 2009 and another 14 extending throughout the city in 2010, with small and ephemeral interventions.
An important factor that was taken into consideration in the initiative was that of citizen participation and that the actions performed on the plots should be the result of a dialogue with the community and people actually living in those neighbourhoods; in the means of neighbourhood associations, nurseries, schools and so forth. In order to make this happen, the team arranged meetings with these organizations, so that they could propose different uses for the various sites and thus involve the citizens in respect to their needs and aspirations with the aim of a collaborative/cooperative result. According to Gravalos and Di Monte, it was very important to maintain a sense of play throughout the whole process. For example, Patricia Di Monte explains, the Arrabal quarter intervention was located in one of its main points: The Rosary Square, performing a children's play area, dotted with a number of cylindrical banks that formed a dreaming and lunar landscape in the heart of the neighbourhood. For this initiative, which had a clear didactic sense, several public schools and children's associations were called upon, organizing sessions in which 20 architects explained to the children various aspects of the city and its architecture. Each group had put forward a proposal and represent it through texts, drawings and models. A jury consisting of journalists and architects selected the winning proposal, which was to be built with the highest possible consistency.
The winning project, entitled 'Theatre of Luck' posed a scenario in a 4-leaf clover (for good luck), which would have illuminated trees and benches shaped like tree leaves. The team of Estonoesunsolar made the constructive idea, and the building process begun within days, a process that was followed and supervised by children, who were able to see their proposal come to life in a very short period of time. Thus, the public, the architects and the community authorities, along with the support of the Municipal Board of the Old Town and the Housing Society of Zaragoza's Municipality, all worked together by means of an 'un-plotted urbanism', in some cases spontaneous, and consolidate in others.
Undoubtedly, the project has opened new prospects in the encouragement and realization of future initiatives of such nature and has created not only a strong social interaction but also political involvement which is essential to bringing change to the way we 'plan' our cities. Also, it created the capacity to improve sustainable and social development on various levels. Primarily, it affected the urban morphology of the city in respect to improving and creating hospitable public areas and green spaces for people to enjoy them. In addition, the project endorsed diversity and complexity by inserting new uses into spaces for cultural interactions and associations. Non-commercial functions were introduced, such as community gardens, ping pong tables, open air playgrounds and sports facilities. In addition, the small and low cost performances and interventions led to the use of recycled materials and urban gardens that maintain soil permeability, the planting of trees and less paving.
Last but not least, the project illustrated social cohesion by means of supporting citizen initiatives and neighbourhood requests for the creation of meeting points intended for intercultural and intergenerational activities. Essentially, projects like 'This is not an Urban Plot' demonstrate that the 'strictness' of the current economic crisis as well as the lack of resources in general, can give food for innovation and can force architects, municipalities, planners and citizens, to imagine and create a society reaching its fullest potential through the re-discovery of what is essential to our habitat. Without doubt, the project as a whole should not only be understood as individual architectural objects within the urban fabric but rather as a field of relations, a part of the system of forces that give shape and rhythm to the everyday life of the body and it is not defined by how it appears but rather by practises; those it partakes of and those that take part within it.11 [11] Kwinter Sanford, 2001. Architectures of Time, The MIT Press Cambridge, Massachusetts London, England p.14.
Perhaps, it is 'too early' to say with certainty whether institutionalized 'citizen participation' strategies, such as the ones used in the project mentioned above are successful or not in the designing of our urban environment but on the other hand they add a level of engagement and interaction on a smaller scale which through time could be quite prosperous for the bigger picture of our human habitat. According to architect Patrizia De Monte12 [12] Patricia Di Monte op. cit. , even after the completion of the implementation phases all spaces are still active and cared for – except for one which was a garden and needed the highest maintenance.
Thus, we could conclude that the level of public interaction as well as the understanding of the project's potential by the municipal authorities, is quite successful since it increased the opportunities of communal activity and imagination.
'This is not an Urban Plot' is but one example of how conditions of scarcity and financial austerity demand new ways of thinking, an extension of the responsibility of the architect and designer to think outside the box and to function more broadly and imaginatively as spatial agents.
Whether or not these alternative approaches will continue to occur with the possible scenario of an economical prosperity once again in the spotlight, the uneven distribution of resources is not going to go away any time soon13 [13] Till Jeremy op. cit. neither is the fact of our survival as a species; as Charles Darwin stated: "It is not the strongest of the species that survives, nor the most intelligent that survives. It is the one that is most adaptable to change."
Certainly, one could question every attempt, every project that is happening today in this 'transitional phase' since various scenarios could be occurring in the background – ideological, economical, reputational and so forth – or whether these influential projects would cease to exist in the possibility of an 'up-coming' economical shift; but in the end it all comes down to change and re-evaluation of our role as the architect. We speak of societies that suffer; as if we really believe there could or should be much less suffering, of projects with a social contribution that constantly strike and shift the attention of the media giving us the belief that someone can intervene in these conditions and make a noticeable difference. But whose preferable reality or sense of realistic possibility is it anyway?
Nevertheless, no matter the political agenda, I strongly believe that the choices we begin making today, firstly as individuals and not only by using less but perhaps by truly understanding the core essence of what lack of resources means, of our struggle as individuals but also as a whole; what is essential about ourselves; our core foundation that is also our rival, will certainly determine our relationship to change. Consequently, architecture can take inspiration from the persistent refusal to play by the rules written by politics and economic systems while it can contribute something priceless to this extraordinary transition by offering an influential drive of growth and fulfilment of tangible models of possible worlds, possible forms of shelter and possible ways of living together.14 [14] Reinhold Martin, 2012, Occupy: What Architecture Can Do. Places Journal [Online]. [Accessed: 09 September 2014].